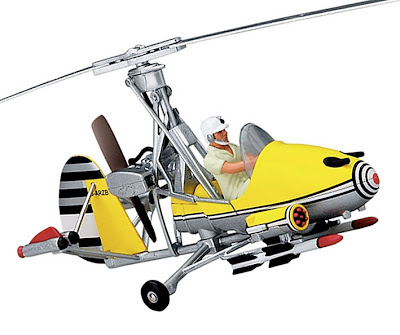 We have just got home from a great evening out to the Gyrocopter Experience at Rufforth Airfield, York. (Oh, and the pub afterwards....medicinal of course, to warm up.....)

Phil, Kati and Jim of the Gyrocopter Experience are excellent hosts and put on a good do for us.

We were treated to a very entertaining evening which started with a talk about the fabulous little flying machines, then on to a look at the very new (and still having teething problems) gyro s(t)imulator, a look at the old boys - including Phils original gyro, now 50 years old, (I'm sure some of them were really large lawn mowers!), then into the cinema for a short film with Phil as the star, downstairs again to watch Jim throwing his beautiful little blue bird around the skies with amazing dexterity and skill, and finally for all those twitching spotters; a chance to get up close and personal with the gyros in the hangar.

Sadly 'Little Nellie' of James Bond fame wasn't there, but 26 of her buddies were. The gyro's come in a variety of shapes and sizes; from open cockpits with tandem seating to closed cockpits with side by side seats (and a heater!).

Those lovely people at the Gyrocopter Experience are full of enthusiasm for their little flying machines and are evangelistic about it too. Make a date to go along and let it rub off on you. You'll be grinning!